Surgical guides are a dental technology that has revolutionized dental surgery. The guides assist in the placement of dental implants, by ensuring that the implant is placed and positioned correctly.
The use of surgical guides results in increased success rates for implants and better outcomes for implant-supported restorations.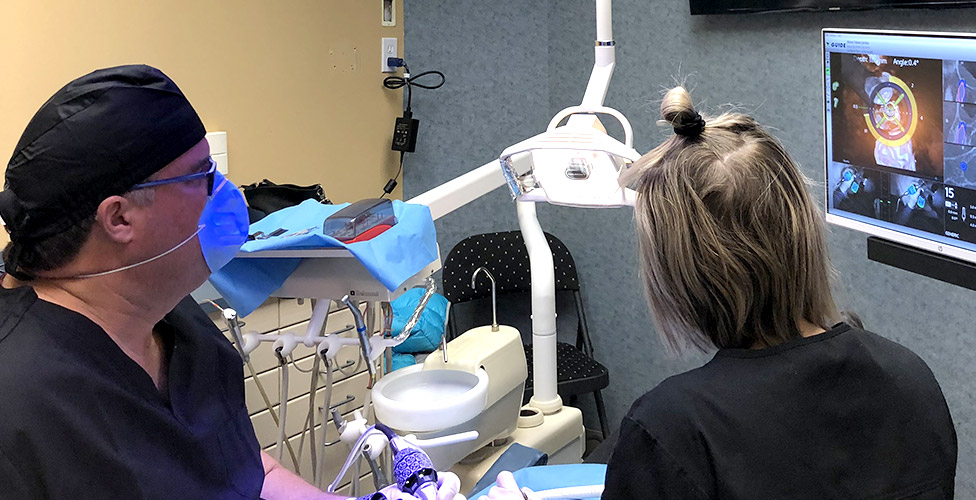 Dynamic Guided Surgery
The X-Guide system, developed by X-Nav Technologies, improves the accuracy of dental implant placement by giving you a real-time 360 degree view of your drill position and the patient's anatomy during implant surgery. X-Guide lets you transfer your treatment plan to your patient, provides live information such as implant depth, angle, and position, and uses interactive, turn-by-turn guidance to help you place the implant exactly where you want it. The high level of precision and accuracy provided by X-Guide helps you achieve a higher functional and aesthetic implant outcome.
BENEFITS OF GUIDED SURGERY
By assisting dental implant surgery, surgical guides serve to ensure dental implants are placed precisely in the ideal location. This not only increases the success rate of the implant, but it also ensures that the implant will remain a secure foundation for crowns or other restorations. Guided surgery also reduces the chance of damage to sensitive tissues in the implant area.
How It Works
Implant Surgery
Precision is very important in implant surgery and care must be taken to ensure the implant is properly placed and that sensitive tissues such as nerves and blood vessels aren't damaged. Differences in patients' anatomy can make proper placement surgery challenging.
3D X-ray
Our 3D X-ray system lets us build a 3D digital model of the implant area and surrounding bone tissue. This model provides vital information that will be used to create the actual surgical guide.
Digital Impression
We digitally scan the patient's teeth to develop a digital impression and computer model of the patient's mouth. This data is also used in the creation of the guide.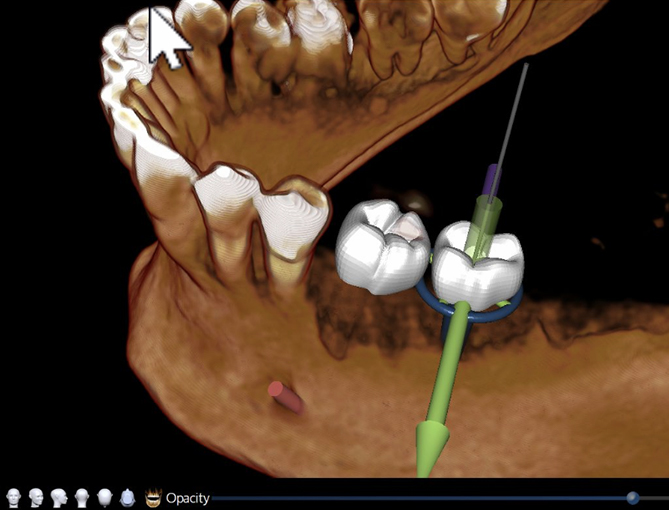 Overlay the Data
Using software, we combine the 3D X-ray and digital impression data to determine the optimal dental placement site in the jaw. The results of this analysis are then used to produce the surgical guide.
3D Surgical Guide
Using a 3D printer, we produce the surgical guide out of acrylic or resin material. We then check the guide for fit in the patient's mouth to ensure accuracy.